Video Podcast Transcript:
Hello, Tyler DeWitt here. I wanted to go over podcasts and why you should incorporate a podcast into your digital marketing. Podcasting is becoming big.
As many of you know, I am a speaker at one the World's Largest Digital Marketing Conference (DigiMarCon). I've spoken in numerous cities. I've even spoke for the Small Business Expo, Small Business University, which is the largest Small Business Trade Show in the country.
Whether you're a small business and enterprise brand, you should start a podcast. Podcasts are growing very fast, and they have been consistently growing over the past five years.
I was just reviewing a post from Influencer Marketing Hub, which had some interesting data. It says, "There are over 2 million podcasts. 78% of Americans are aware of podcasting. 91% of Australians are aware of podcasting. Almost 60% of U.S. consumers listen to podcasts. 160 million Americans have listened to a podcast. 65% listen to the whole episode." I'm not sure how they get that data or where they get that data from, but if 65% of people were listening to podcasts, that's pretty good. Content bounce rates are really high. If you can get 65% of people engaging with your podcast, actually listening to it, there is a good chance they may take action or come back and listen to it again.
"41% of the U.S. population lists to podcasts on a monthly basis. 28% of the U.S. population lists to podcasts on a weekly basis. 8 podcasts are listened to per week on average. Average time spent listening to online audio was down in 2020. Podcast listening peaks in the morning." So, maybe it is best if you publish your podcast in the morning or the night before, then blast your email list or whatever it may be so your subscribers can listen to that.
"Radio is the most popular audio source while driving. Mobile phones are preferred device." So, maybe get listed on Apple Podcast Connect.
"Pandora boosts the best brand awareness. 70% of podcasters use headphones while recording." You see, I've got mine on.
"Podcast ad revenues expected to exceed 2-billion in 2023." That's a phenomenal number.
"The top creator is the True Crime Obsessed Podcast. The demographic of podcast listeners are diversifying." As you can see, podcasts are becoming a big hit nowadays. A lot of people are using it as a digital marketer and more speakers are using it. We even have a fishing client that's using it. We have a home appliance client that's using it. People are becoming more and more in tune with podcasts.
It is definitely something that you can incorporate into your marketing. It will also give people an idea of who you are and allow you to present yourself as an expert in your field. In other words, people will see you as a thought leader. Especially when you're on your podcast, answering questions, interviewing people, or taking interviews. Maybe you want to do a Q&A with someone from your industry, or a Q&A with one of your employees, partners, whatever it may be, and start sharing that information.
You can also create transcriptions. That's actually what we're doing right now. We've set up the podcast and we're going to do transcriptions on the website. All the audio goes in the text in case some people want to go back, read it, or they have notes.
Then you have YouTube. You get major exposure through YouTube on podcasts. You can share it on your Facebook. You can share it on your LinkedIn. I mean the possibilities are unlimited.
As you probably already know, YouTube videos will show up in the Google search results. If you are able to set up a podcast hub on your website, directory sharing all of your videos, all that content will get indexed in Google. So, over time, as people are searching for something in your industry, you will keep getting exposure. At the same time, you will come across as a thought leader and someone who is an expert in your industry by having a podcast and answering people's questions.
If you don't have a podcast, you better got one set up soon. They are growing. And they are growing rapidly fast. Have a good one. Thank you.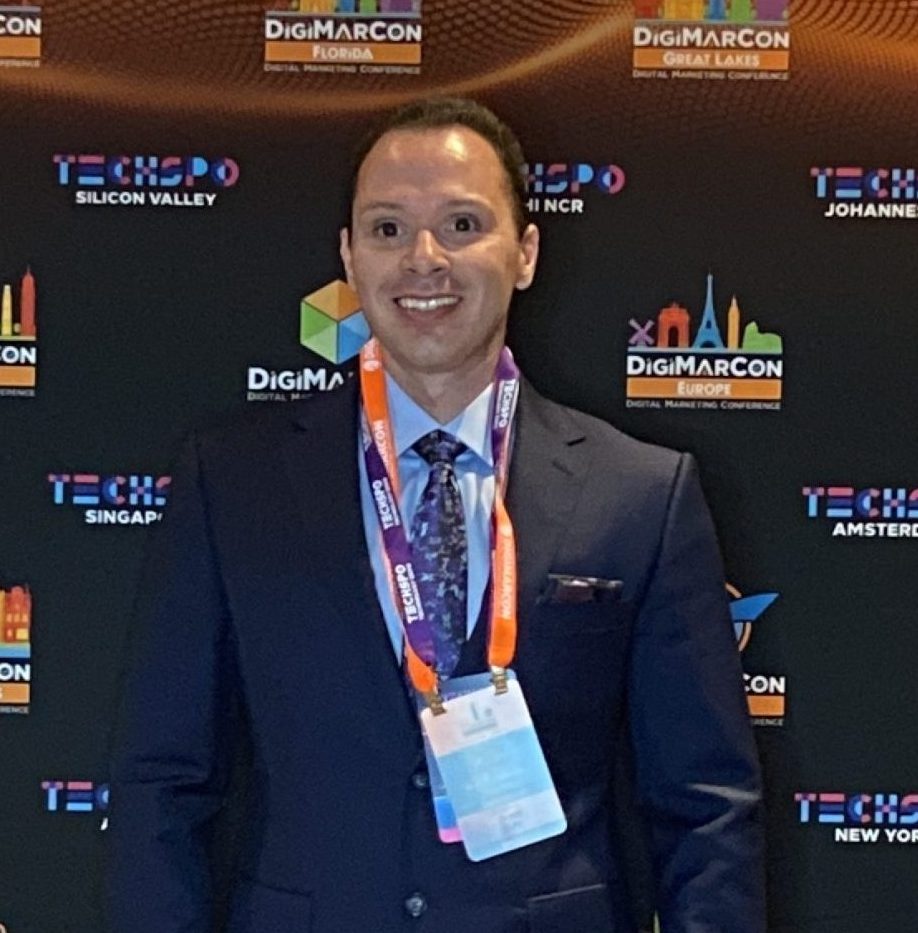 A Top Performing Marketing Executive, Consultant, and Speaker.
Tyler's success at helping clients scale has resulted in numerous speaking engagements. Tyler has spoken for numerous tradeshows including DigiMarCon which is one of the world's largest digital marketing conferences.
Read Tyler's BIO